A Mediterranean jewel
We encourage you to discover Benalmádena, a municipality of Málaga bathed by the waves of the Mediterranean Sea and cradled by its hills, with a history dating back more than 15,000 years. Let yourself be captivated by its cobbled and flower-adorned streets, by the fountains hidden behind every corner, whitewashed houses, the smell of jasmine during the magical summer nights, its food and its people.
Interesting Places
Streets and paved squares

The El Muro Gardens, designed by Canarian artist César Manrique

The La Niña de Benalmádena Sculpture

The Pre-Columbian Museum and Colomares Castle

The Estupa de la Iluminación and the Virgin Grotto of Lourdes

The Parque de los Limones and the old washhouse

Theme parks: Selwo Marina, Cable Car, Tivoli World and Sea Life

Benalmádena Marina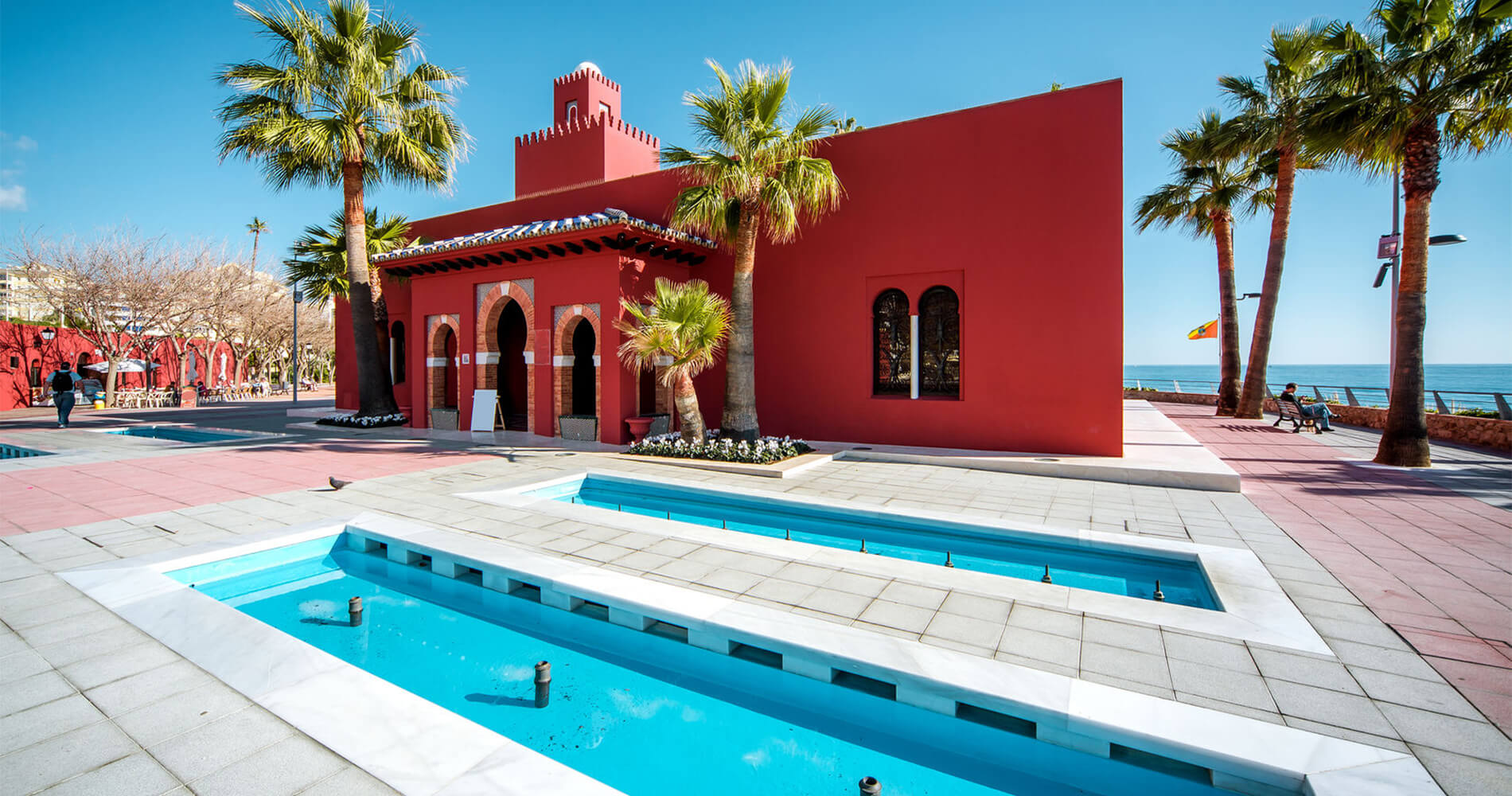 Festivals and traditions

Fall in love with our people's deeply-rooted customs – you'll feel like you belong in the wonderful Andalusian town that is Benalmádena.

Religious rites

Holy Week (March or April): every afternoon, you'll get into the spirit of the Andalusian fervour of this village as it enjoys its processions. In addition, on Good Thursday and Good Friday you can go back 2,000 years with the performance of El Paso, a play performed in a natural setting where nearly 200 actors embody the life, passion and death of Jesus.

Religious rites

Corpus (May or June): this is an ancient tradition to which the inhabitants of Benalmádena Pueblo turn. The procession runs through a beautiful carpet of flower petals and aromatic herbs, laid down by the Benalmádena locals themselves the night before.

Religious rites

Veladilla del Carmen: Benalmádena Costa celebrates its maritime procession on 16 July. Fiestas de la Virgen de la Cruz: the most traditional festivities of this locality take place during the month of August. Decorated streets, women in flamenco costumes and men on horseback will surprise you in every corner of the village.

Arabic essence

The Arabic souk: the Al-Andalusian heritage is reflected in every street during these September festivities. Belly dancers, Arabic music, storytellers, crafts and Arabic cuisine will recall classic tales of the One Thousand and One Nights.

Haute cuisine

The rich traditional cuisine of this white village includes such dishes as breadcrumbs with milk, cachorreña casserole, sardine skewers and fried fish (anchovies, horse mackerel and mullet).

Haute cuisine

The local kitchen is home to a wide range of simple dishes prepared with local products, using techniques and methods whose origins are lost in the mists of time. The ancient recipes include a series of dishes such as gazpachuelo fish stock soup, Málaga-style salad or beans with spinach and cod.

International cuisine

You can also enjoy restaurants offering international cuisine of excellent quality, as well as arabesque-influenced dishes. Throughout the year, there are fairs and festivals on various dates, such as the Seafood Fair in March or the Ruta de la Tapa in October.