Katharó Spa
For the civilizations of ancient Greece, the bath acquired religious connotations that were intertwined with pleasure, ostentation of wealth and the use of oils and aromatic essences.
Every bath session included a salon where they were washed and anointed with jasmine oils, roses, almonds and saffron. Gold and alabaster pitchers filled with flavored water with perfumed. The thermal spas within Katharo spa are inspired by those of the Greek baths and we can distinguish the following zones: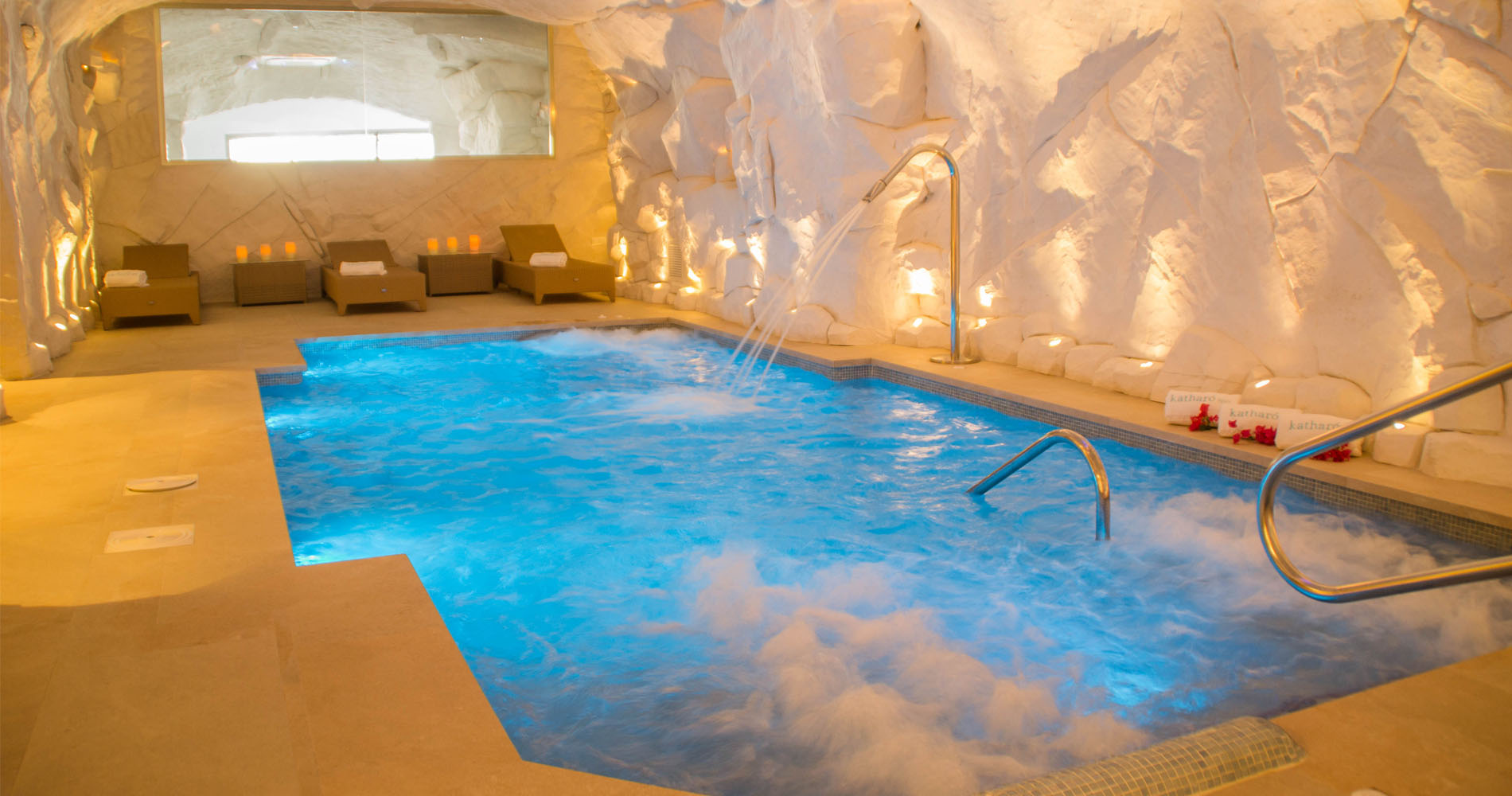 Caldarium

Therapeutic hot water pool with swan neck, sun loungers and bench whirlpools.

Frigidarium

The cold water pool and the ice fountain provide a great thermal contrast.

Jacuzzi

Pool with hydromassage jets with muscular relaxation effects.

Laconicum

Turkish bath: Steam bath at 45° C and 99% humidity.

Sauna

Dry air bath more than 80º C.

Massage and Ritual Room:

Zone to enjoy massages and treatments based on oils, ointments and creams aromatic and natural.

Palestra – Gym

The thinkers of Ancient Greece were sure that there is a direct relationship between intellect, physical development and health.

Apodyterium

Dressing rooms to prepare for the Spa or Gym session.

Tabernae

Places to hydrate after a spa or gym session. In our Katharó Spa bar or in Escorpio Restaurant.

Relax Area

Deckchairs for rest and relaxation.
Notice
Special water circuit price: 20.00 € per person (only applicable to guests staying at La Fonda hotel).
Water circuit price: 25.00 € per person.
You need to ask for a previous appointment. Minimum age of Access: 16 years (D.N. I) in the company of an adult.
All our services can be purchased in gift sheets, have one year validity from the date of purchase, FULFILLED THE EXPIRATION DATE LOSES ITS VALIDITY.
Important
Each promotion or purchase of treatment or circuit, has its own special conditions, we recommend that before making the purchase read carefully if they adapt to their necessities, days to be used, schedules and periods of validity, as well as sheets Gift. For cancellations or modifications of reservations, it is required at least 48 hours before the appointment, otherwise, Katharó Spa reserves the right to be able to validate the corresponding voucher.